After the account holder has passed the verification process, you can add additional drivers for a non-refundable $15 fee for each driver. For instant rentals, additional drivers can be added 24-48 hours after the account holder passes.
Adding an Additional Driver:
Please follow the steps below to add an additional driver:
-Log into your account on rvrentals.com
-Go to My Rentals, which is located under the main menu, the circle in the top right
-Press Rental Details
-Click the "Add Driver button"
-Enter the requested information (have the driver's name and email ready to go)
-Note on the payment page, the payment method defaults to the card on file and can be changed using the edit detail button. Changing this will now make the new card the default.
-Review the checkout page to ensure the information is correct
-Select Confirm and pay to finish the transaction
Additional Driver Verification Steps:
Additional drivers will receive the following once you complete the instructions above:
-An email with a link to sign into your existing Good Sam RV Rentals account or create one and start the verification process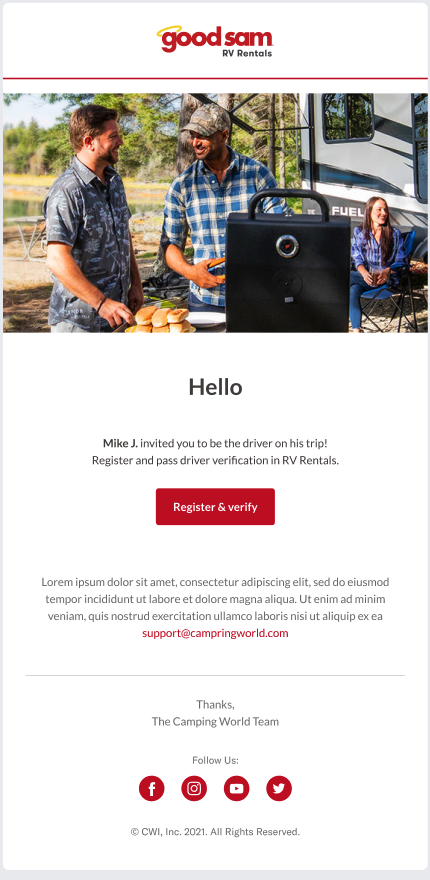 The verification process is completed through our verification partner, Digisure. You can complete this on a computer or mobile device using the pop up box or link. You will take pictures of the front and back of your valid, U.S. issued license and scan your face to confirm your identity.
Once you successfully submit your verification, you will see a green checkmark saying completed on your screen. This means you have submitted your verification for review.
Please note, if you have an existing account and have already been verified, you will receive an email letting you know that you are approved to be a driver on this trip.
View Status of Additional Drivers:
To view the status of your additional drivers:
-Go to My Rentals, which is located under the main menu, the circle in the top right
-Press Rental Details
-Additional drivers' status will show under the status bar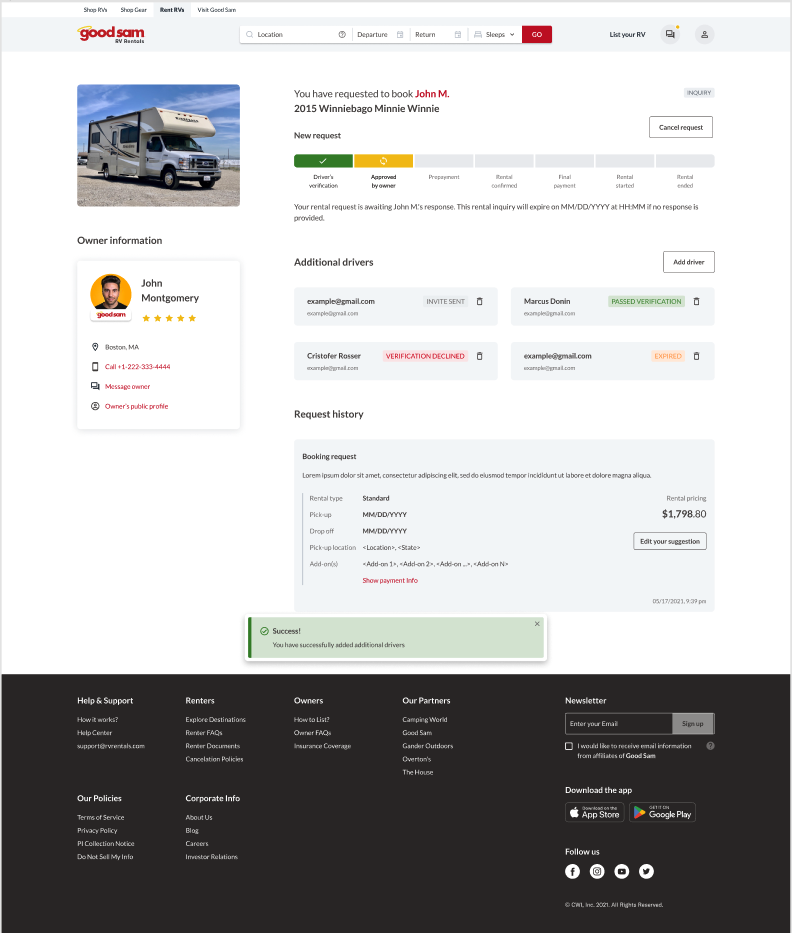 **Please note, any member of your party must complete the driver verification in order to drive or tow an RV during your trip. If an unauthorized person operates or tows the rented RV during your rental period, insurance could be voided.**