As an owner, you can choose whether or not you want to offer delivery. Before deciding your fees, please keep in mind rates are calculated based on straight one-way mileage from point A to point B, so please account for this when setting your rates and adjust accordingly. Pick up of your RV at the end of a rental period is included in the delivery fee and cannot be charged separately to the renter.
At the top of the Location & Delivery Options page, enter your full address so our system can correctly calculate delivery and sales tax. Select from the auto-populated address options when entering your information.

Select 'Standard Rental' or 'Delivery Only' above the map. When making this option, be sure to click the toggle to the right to enable a rental type and check to make sure only one type is enabled:

A standard rental allows you to offer both renter pick-up and delivery. If you are comfortable with renters driving or towing your RV, this selection permits them to do so. You can also set customized delivery options. This delivery type will also allow your renter to move the RV after delivery. For example, they might want the RV delivered to their home, but then they will take it to a campground after loading their things. Offering delivery is not required.
Delivery-only rentals allow you to set custom delivery and setup fees but do not give the renter the option to pick up your RV. Once you drop off your RV, the renter will not have the option to move it. You can transport your RV to your renter's destination stress-free.
You will then have the option to set a delivery radius and/or offer delivery to a specific location on either rental type.
For Delivery Radius:
Set your delivery radius to the total number of miles you are willing to deliver from your address. Adjust free miles to the number of miles you are willing to deliver for no cost, if applicable.

You have the option to set a minimum fee with an additional cost per mile or charge a flat rate for delivery.
Enter your cost per mile to account for the roundtrip cost (four ways). Now set your minimum fee, which is the minimum cost you are willing to deliver for regardless of the distance.

Once the minimum fee has been met for the miles traveled, the rate per mile charge applies.
Example- An owner offers the following:
Delivery radius is up to 100 miles
The delivery location is 75 miles away
The minimum fee is $30.00
The rate per mile is $5.00
$30 (minimum fee) / $5 (cost per mile)= 6 miles (included for minimum)
75 miles total - 6 miles to meet minimum = 69 miles charged per mile
69 miles x $5 per mile = $345
$345 (paid rate per mile for miles over minimum) + $30 (minimum fee)= $375
For flat rate delivery, enter the roundtrip, flat cost to deliver.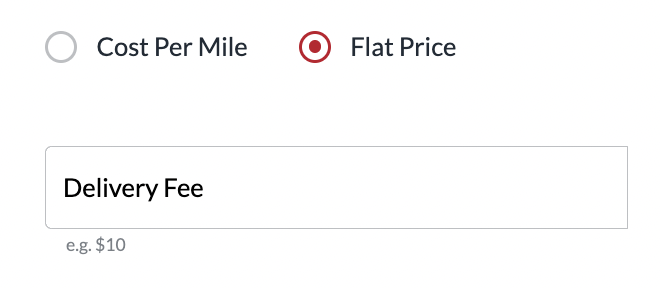 For Specific Destination Delivery:
Enter the delivery location, like a specific campground or popular destination. List the fee and in the notes, enter any information about what is included in this delivery fee.